QUETTA: At least 70 people were killed on August 8, 2016 in a suicide bomb explosion at Civil Hospital in the provincial capital of Balochistan, an incident which is marked as one of the worst in the country's long history of suffering terrorist attacks.
Majority of the victims included lawyers who had gathered to protest over the assassination of Balochistan Bar Council (BBA) president Bilal Anwar Kasi and Journalists who had gathered to cover the event.
The lawyers' community on Tuesday announced observation of 'black day' to mourn the victims and also Awami National Party (ANP) called for strike in various cities of Balochistan including Chaman, Zhob, Ziarat and Pishin.
Balochistan Chief Minister (CM) Sanaullah Zehri also announced that all government and private educational institutions will remain closed in Quetta as well as homage will be paid to the those who lost their lives at Provincial Assembly lawn after Maghrib prayer, which is expected to be attended by ministers, Member of Provincial Assembly (MNA)'s, lawyers and the civil society.
Chief Justice of Pakistan (CJP) Saqib Nisar, while addressing a condolence reference in the provincial capital, said that the lawyers' community will never forgot their colleagues and friends who left them last year.
He further added that terrorists want to destabilize Pakistan through their heinous activities, but the country will not break and will never allow their cowardly attempts to succeed.
Pakistan People's Party chairman Bilawal Bhutto, talking to the media, said that the culprits of Quetta attack still roam free, and that an attack on lawyers is an attack on Pakistan and it's constitution.
People across the country also took to Twitter to pay tribute to the victims.
Senior journalist Talat Hussain (@TalatHussain12) called the attack as one that has left deep scars on the country: "Remembering the great loss in Quetta a year ago. Terrible tragedy. Deep scars. Prayers for all victims of terrorism." The tweet said.
Senior journalist Hamid Mir (@HamidMirPAK) also took to twitter and regarded the country as a victim of the nuisance of terrorism: "Pakistan is a victim of terrorism. One year ago 70 people were killed 2day including 56 lawyers in Quetta."
Twitter user Brashna Kasi (@Brashnaa) said that the country lost 'its finest' in Quetta attack last year: "Quetta lost its finest a year back. 8th August is here to haunt us of the deadly attack that ruined 100s of homes. #NeverForget"
Baloch artist Sherjil Baloch portrayed all the 70 victims of the attack as a tribute to the martyrs: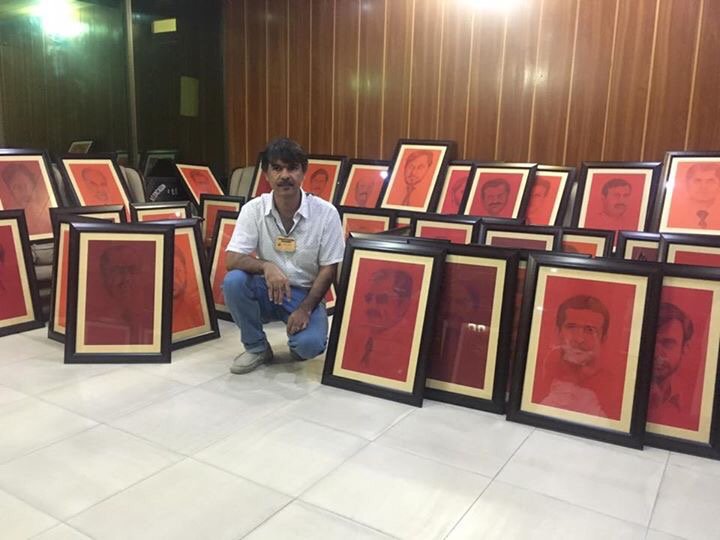 - Portraits of Quetta attack victims by Sherjil Baloch -
Recitations of the Holy Quran, candle-lit vigils, condolence references, rallies and demonstrations are being held across the province to mourn the innocent loss of lives.